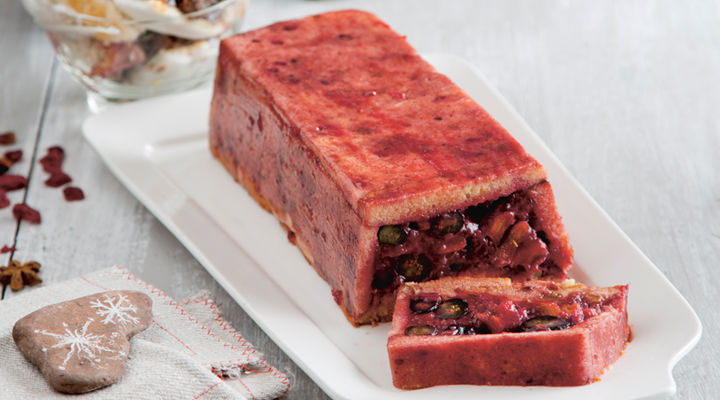 RECIPE OVERVIEW
This dessert delivers a much-needed vitamin C boost during the Christmas season. 
2

tbsp

Grand Marnier

or port or brandy

8

slices

Madeira Cake

or sponge or medium-sliced white bread, crusts removed (leftover)

600

g

Mixed Berries

or any fresh fruit such as a mix of blackberries, strawberries, cherries, pear, apple, redcurrants and/or rhubarb

1

sachet

Mulled Wine Spice

200

g

SuperValu Dried Fruit

such as a mix of sultanas, dates, apricots, cranberries, blueberries, raisins and/or figs

4

slices

SuperValu Fruit Cake
To Serve
1

drop

SuperValu Whipped Cream 350ml

or custard
Method
*This recipe serves 6 to 8.
1. Put large slices of leftover cake in the bottom of a 900g loaf tin, cutting the cake to fit if necessary. Use more slices to line the sides.
2. Place the dried fruit in a pan with the sugar, red wine and mulled wine sachet. Heat gently while stirring for about 10 minutes, until the sugar dissolves.
3. Hull and wash the fresh fruits. Halve or quarter them if they are large. Add the fresh fruit to the pan and cook for a further 5 minutes, until juices begin to run and the fruit is just tender. Remove from the heat and leave to cool.
4. Remove the mulled wine sachet, then spoon the fruit mixture and half of the juice into the cake-lined loaf tin, reserving the remaining juice in a jar. Store it in the fridge until ready to serve the next day.
5. Tightly cover the fruit mixture with the fruitcake slices, cutting the cake to fit if necessary. Drizzle the fruitcake lid with the liqueur.
6. Place the filled loaf tin in a shallow dish to catch any juices that may overflow, then cover with three layers of greaseproof paper. Place kitchen weights or tins of beans on top of the paper lid and leave to chill overnight in the fridge. This dessert improves as it sets in the fridge, so ideally give it at least 24 hours.
7. Invert the pudding onto a serving plate and spoon the reserved juices from the fruit over the top. Serve with whipped cream or custard.
Be the first to add a review.