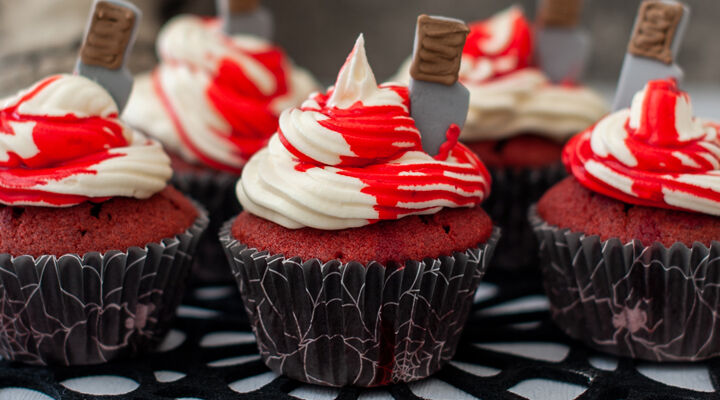 For the Cream Cheese Frosting
For the Cupcakes
1

tbsp

Red Food Colouring

50

g

Unsalted Butter

, rom temperature
Method
Preheat fan oven to 180°C. Start with the cupcakes, cream the butter and sugar until light and fluffy. Beat in the eggs, vanilla, buttermilk and oil until well combined and mix in the food colouring until your mixture is deep red.
Fold in the flour and cocoa powder until combined. Divide evenly between 12 muffin cases.
Bake at 180° for 15 to 20 minutes or until golden and springy to the touch.
Whilst the cupcakes are baking make the frosting; mix all ingredients with a hand mixer until light and fluffy. When the cupcakes have cooled, use a piping bag or a plastic bag with the tip cut off to evenly decorate the cupcakes.
For the 'blood' drizzle mix the ingredients until you get a deep red colour and drizzle the cupcakes. Decorate with edible Halloween decorations.
Be the first to add a review.