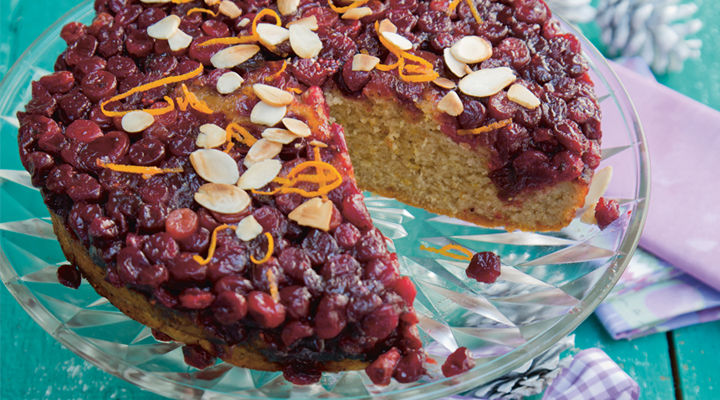 RECIPE OVERVIEW
Upside down cakes were certainly a hit in my house when I was growing up. Pineapple rings with glacé cherries in the holes was the preferred fruit of choice in the 1980s, of course! I'm sure many of you can relate to that, so I'm bringing in a touch of nostalgia with this cake. I've updated it with a deliciously moist and festive cranberry and orange topping.
Method
1. Preheat the oven to 180°C/gas mark 4. Remove the base from a 23cm springform tin and lay a piece of tin foil over it, right side up. Replace the base and press the excess foil edges up the outside of the tin. Grease the base and line with non stick baking paper. Set aside on a baking tray.
2. To make the cranberry topping, melt the butter in a large frying pan. Add the sugar and cook over a gentle heat for about 5 minutes, until dissolved and beginning to caramelise. Add the cranberries, tossing them about to coat. The sugar will harden a little, but don't worry, just continue to cook for 3 to 4 minutes more and it will melt. The cranberries should be softened but still holding their shape. Spread out evenly in the base of the prepared tin and set aside.
3. Place the flour, sugar, mixed spice, baking powder, baking soda and salt in a large bowl and stir together. Beat the eggs lightly in a large jug. Add the buttermilk, oil and three-quarters of the orange zest and whisk together. Pour the wet mixture into the dry ingredients and beat well to make a smooth batter.
4. Pour the batter evenly over the cranberries, spreading it level. Bake for 35 to 40 minutes, until the cake feels firm in the centre and a skewer comes out clean when inserted.
5. Remove and leave to cool for about 5 minutes. Carefully remove the tin, then invert a serving plate or cake stand on top and turn the cake out upside down to reveal the topping. Scatter with the toasted flaked almonds and the remaining orange zest and serve warm or at room temperature with softly whipped cream or ice cream.
TIP: Use other fruits like apple wedges, blackberries, fig slices or even banana halves instead of the cranberries if preferred - not forgetting pineapple slices and glacé cherries too, of course!
Be the first to add a review.