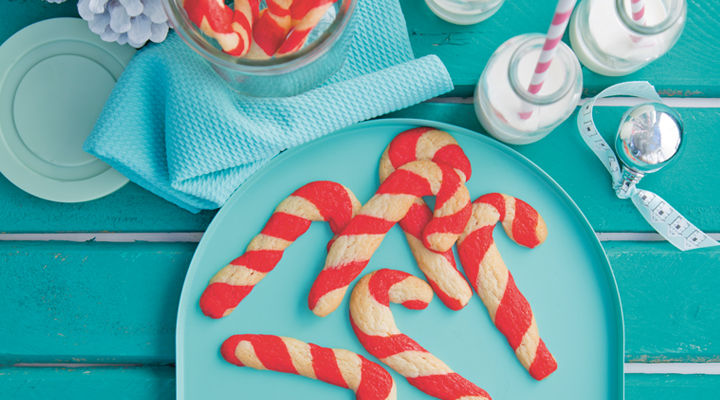 RECIPE OVERVIEW
Bake these candy cane cookies for fun with the kids, package them up as edible gifts or hang them from the Christmas tree as a decoration as well as for nibbling!
300

g

Plain Flour

plus extra for dusting

1

drop

Red Food Colouring

150

g

Unsalted Butter

cubed and chilled

1

tsp

Vanilla Extract

or vanilla bean paste
Method
*This recipe makes 30 cookies.
1. Preheat the oven to 180°C/gas mark 4. Line three large baking sheets with non-stick baking paper.
2. Place the flour, sugar, butter and salt in a food processor and blend briefly to give fine crumbs. Add the egg and vanilla and blitz again until it comes together as a dough.
3. Remove the dough, reserve half and return the other half to the processor. Adding a little food colour at a time, blend in just enough to make a vibrant red dough. Alternatively, you could blend the colour in by hand, but wearing gloves, in a bowl to avoid any potential discolouration of the processor.
4. Taking a walnut-sized piece of the red and 'white' doughs, roll each one into a small sausage shape about 5cm long. Place them side by side and roll them together until they are about 30cm long. They will have begun to twist around each other. Give them a further twist to create a definite pattern. Cut in half and shape each piece into a candy cane by bending one end. Repeat to make 30 cookies, spacing them well apart on the lined baking sheets as you go.
5. Bake for 10 to 12 minutes, swapping the trays around in the oven halfway through. They should be just soft to the touch but cooked through. Remove and leave to cool completely on the baking sheets. These will stay fresh in an airtight container for a few days.
Be the first to add a review.