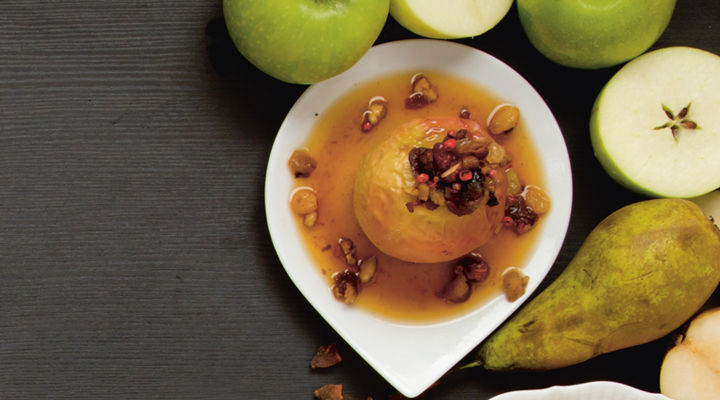 RECIPE OVERVIEW
The blush on Pink Lady apples makes it a pretty apple to bake. The fruit and nut stuffing takes the traditional cinnamon stick to a more sophisticated level.
50

ml

Brandy 350ml

or Calvados

4

portions

Caramel Ice Cream

to serve

100

g

Dried Cranberries

and golden raisins (a mix of both)

50

g

SuperValu Brown Sugar

(soft)

100

g

SuperValu Goodness Mixed Nuts

chopped

4

-

SuperValu Pink Lady Apples

cored but unpeeled

100

ml

White Wine

apple juice or water (any poaching liquid)
Method
1. Preheat the oven to 190°C/ gas mark 5.
2. Pour just enough boiling water over the raisins, cranberries and peppercorns to cover them. Let them plump up for 10 minutes.
3. Meanwhile, combine the nuts, brown sugar and brandy in a medium-sized bowl and set aside. When the fruit is done soaking, drain it and stir it into the sugar and nut mixture.
4. Score the skin of each apple around its circumference to prevent the skin from bursting and curling. Place all the apples in an ovenproof baking dish and stuff with the fruit and nut mixture. If you have too much, that's okay. You can let it overflow into the dish.
5. Pour the poaching liquid into the dish and bake in the oven for about 35 minutes, until the apples are tender. Use any leftover poaching liquid and fruit to drizzle over the apples when you serve them with a scoop of caramel ice cream.
Be the first to add a review.