Summer Fruit Pavlova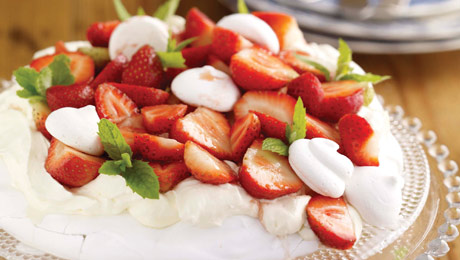 This is a family favourite in the Dundon household, a promise of this after dinner ensures a clean plate! You can add your own variation of fruits, try kiwi and mango, or drizzle with passion fruit - always a winner.
Ingredients
6 SuperValu Egg Whites
350 g SuperValu Caster Sugar
0.5 tsp Cornflour
0.5 tsp Vanilla Essence
0.5 SuperValu White Wine Vinegar
Garnish

250 ml pouring cream very softly whipped
300 g punnet SupeValu Strawberries cut into quarters
125 g punnet superValu Raspberries
125 g punnet SuperValu Blueberries
Method
Preheat oven to 120°C/240°F/Gas mark ½.
Put the egg whites into a spotlessly clean mixing bowl of a kitchen aid and beat on full speed until quite stiffly beaten.
Turn the speed of the mixer down and slowly add the sugar-adding just a little at a time.
When all the sugar has been incorporated, add the vanilla essence, cornflour and vinegar and give one final whisk on high speed.
When ready the mixture should be glossy and when the bowl is turned upside down the mixture should remain stationary in the bowl.
Meanwhile prepare your tin. Line an oblong baking tray (13 x 9 inches/33 x 23cm) with parchment paper.
You can either spread all the mixture out on the baking sheet or using a piping bag you can pipe the mixture out into attractive individual shapes (Meringue nests).
Bake in the oven for 1 hour until the meringue mixture is very firm to touch but still soft on the middle.
I normally leave mine to cool in the oven with the door ajar.
When cold transfer to a serving platter and decorate with some freshly whipped cream.
Pile the summer fruits on top of the pavlova and serve immediately!
Summer Fruit Pavlova

,