Strawberry Mille Feuille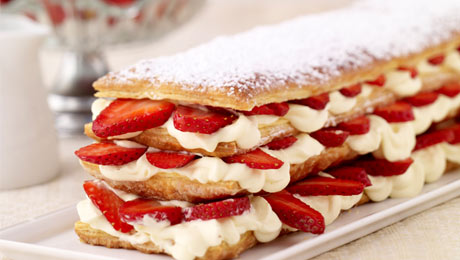 This interesting and elaborate dessert works really well for a dinner party.
Ingredients
1 packets Puff Pastry naturally thawed
75 g SuperValu Icing Sugar (approx)
500 ml SuperValu Milk
1 tsp Vanilla Extract
4 SuperValu Egg Yolks
140 g SuperValu Caster Sugar
60 g SuperValu Flour
100 ml SuperValu Fresh Cream lightly whipped
500 g SuperValu Strawberries
Custard Filling
Whisk together the egg yolks and sugar until light and frothy mixture, then sieve in flour.
Pour the milk into a saucepan and add the vanilla extract, bring to the boil.
Once boiled, pour the boiling milk over the egg mixture.
Return to the heat and boil continuously, whisking for approximately 3–5 minutes until thickened.
Allow to cool.
When the custard has cooled down fold in the whipped cream.
Chill in the fridge until needed.
Pastry
In the meantime, preheat the oven to 190°C/375°F/Gas Mark 5.
Lightly dust your work surface with some sifted icing sugar.
Once the block of puff pastry has defrosted cut it in two and roll each half into an even sized rectangle.
Cut the pastry into 4 strips (30cm x 6cm approximately).
Prick the pastry strips lightly all over with a fork and transfer it to a flat baking sheet.
Bake in the oven for approximately 10–15 minutes until the pastry is nice and crisp.
When the pastry comes out of the oven dust, generously, with icing sugar and using a chef's blow torch or the grill from the oven caramelise the top of the pastry.
Store until required.
To assemble
Lay a piece of the caramelised pastry on the work surface and pipe with some of the custard filling on top.
Arrange some sliced strawberries and then another piece of pastry on top.
Repeat this 2 more times.
Strawberry Mille Feuille

,
Emma| December 23, 2012 at 12:39 pm

Delicious - I don't even like custard but this is lovely with a little extra vanilla. Couldn't fit 4 layers of pastry though, I barely fit 2!! I am going to try this with mini vol-au-vents instead of the rolled pastry for Christmas day dessert!! 100% for taste!!

SuperValu| September 6, 2012 at 9:03 am

Hi Jackie. We advise using Plain Flour. Let us know how you got on!

Jackie| September 5, 2012 at 9:44 pm

Is it plain or self raising flour or does it matter?