Portobello Mushrooms with Garlic and Courgette Stuffing, Salad and Potato Wedges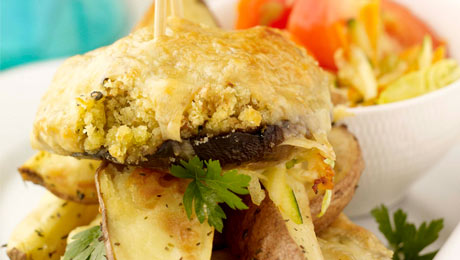 This is a lovely vegetarian option which makes a wonderful main course for 2 or serves 4 as a light starter.
Ingredients
4 SuperValu Portobello Mushrooms
1 SuperValu Courgette grated

Salad

1 SuperValu Butterhead Lettuce shredded thinly
2 SuperValu Tomatoes cut into wedges
1 SuperValu Carrot grated
1 SuperValu Courgette

Potato Wedges

3 large SuperValu Rooster Potatoes washed and cut into wedges
From the Store Cupboard

50 g SuperValu Butter
150 g Fresh White Breadcrumbs
4 cloves SuperValu Garlic crushed
75 g SuperValu Cheddar Cheese sliced
SuperValu Salt & Pepper
1 tbsp SuperValu Olive Oil
SuperValu Black Pepper
Method
Melt the butter and add in the grated courgette, crushed garlic and dried mixed herbs and sweat gently for 3-4 minutes before adding the breadcrumbs and the seasoning.
Mix well and allow to cool down slightly.
Peel the mushrooms and place on a flat baking tray.
Divide the garlic and courgette stuffing on top of the mushrooms and top with a slice of cheddar cheese.
Drizzle with a tiny amount of olive oil.
Bake at 180°C/350°F/Gas Mark 4 for 15-20 minutes.
Potato Wedges
Place the potato wedges, olive oil and dried mixed herbs into a large mixing bowl, mix well and then transfer onto a flat baking tray lined with parchment paper.
Bake at 180°C/350°F/Gas Mark 4 for 35-40 minutes.
Salad
Mix together the grated carrot & courgette with the lettuce leaves and tomato wedges.
Drizzle with the olive oil, season with a little black pepper and serve immediately with wedges and stuffed mushrooms.
Portobello Mushrooms with Garlic and Courgette Stuffing, Salad and Potato Wedges

,