Mediterranean Baked Tapas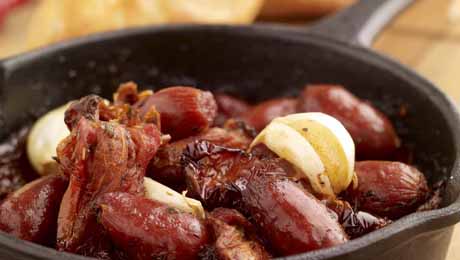 This is a very simple dish, the chorizo snacks are delicious, packed with flavour and perfect for sharing with friends.
Ingredients
110 g Semi Dried Tomatoes (from the Deli counter)
110 g Chorizo Snacks (from the Deli counter)
3 tbsp SuperValu Olive Oil
8 cloves Garlic unpeeled
Method
Preheat the oven to 150°C/300°F/Gas Mark 2.
Heat a small cast iron pan with a little olive oil and then add in the whole garlic, chorizo snacks and the semi dried tomatoes and cook for 2-3 minutes on the stove top.
Transfer the entire mixture to the oven and allow to cook for a further 10-12 minutes.
Remove from the oven, allow to cool slightly, cover with the remaining oil and then serve with some crusty bread.