Kevin Dundon's Christmas Cake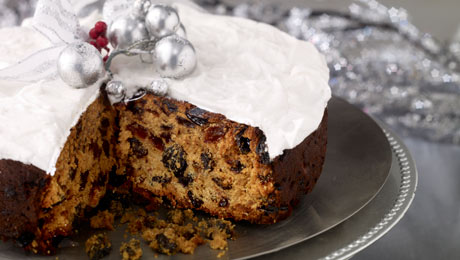 Try out this delicious Christmas cake over the festive season!
Ingredients
355 g SuperValu Sultanas
240 g SuperValu Flour
200 g Cane Sugar
100 g SuperValu Currants
100 g SuperValu Raisins
150 g Glacé Cherry and Citrus Peel Mix
50 g Chopped Almonds
5 g Mixed Spice

You will also need:

4 medium SuperValu Eggs
200 g SuperValu Butter

Optional extras:

0.5 SuperValu Lemon ( grated rind and juice)
1 SuperValu Orange (grated rind and juice)
1 Cooking Apple peeled and grated
Whiskey (or Brandy)

To Decorate - Almond Paste:

150 g SuperValu Icing Sugar (sieved)
150 g SuperValu Caster Sugar
300 g Ground Almonds
3 large SuperValu Egg Yolks beaten
0.5 tsp Almond Essence
2 tbsp Lemon Juice
1 tsp Rum
1 tbsp Apricot Jam (heaped)

To Decorate - Icing:

450 g SuperValu Icing Sugar
2 SuperValu Egg Whites
0.5 tsp Glycerine
Before you begin:
Preheat the oven to 160°C, Fan Oven 145°C, Gas Mark 2. Prepare an 8inch/20cm round cake tin by lining the base and the sides with SuperValu greaseproof paper. Tie a double band of brown paper around the outside of the tin.
For the preparation:
Cream the butter and sugar until light and fluffy. Gradually beat in the eggs and continue mixing. Sieve the flour and mixed spice into a separate bowl and fold half of this into the mixture.
Stir in the sultanas followed by the remaining flour and spice. Once mixed, stir in the currants, raisins, glacé cherry and citrus peel mix and the chopped almonds.
Spoon into the prepared cake tin and bake for approximately two hours until the cake is firm to touch, or, when pierced with a skewer, it comes out clean.
If you are adding the optional ingredients, the lemon, orange and apple should be added along with the dried fruit. The whiskey/ brandy should be drizzled over the cake when it is cool.
For the almond paste:
Heat the apricot jam in a small saucepan on a medium heat until it starts to boil. Place the icing sugar and caster sugar in a mixing bowl with the ground almonds. In a separate bowl, lightly beat the egg yolks, almond essence, lemon juice and rum. Gradually add the egg yolk mixture to the almonds and sugar and knead to make a soft but not sticky dough.
Turn onto a clean surface, which has been dusted with icing sugar, and knead until smooth. If you're not using the paste straight away, keep covered with plastic wrap to prevent it drying out.
To apply the almond paste:
If the cake isn't very level, turn the cake upside down and cover the base instead of the top (the top and sides of the cake are covered separately).
Measure around the circumference of the cake using a piece of string. Brush the top with boiled apricot jam.
Dust a clean surface with icing sugar and roll out one third of the almond paste into a circular shape. Turn the cake onto the paste and trim away excess almond paste with a sharp knife so it fits exactly on the top of the cake. Turn the cake carefully and set on a cake board.
Brush the sides with the remaining apricot jam and roll out the remaining almond paste to a rectangular shape, the length of the piece of string. The width should be about the same height as the cake.
Carefully roll-up the almond paste and smooth onto the sides of the cake. Trim away the excess with a sharp knife so that the paste fits the shape of the cake.
Leave the cake for about five days so that the almond paste has a chance to dry before covering with royal icing.
For the royal icing:
Lightly whisk the egg whites in a large mixing bowl until they are just beginning to get frothy. Stir in a couple of spoons of icing sugar and beat with a wooden spoon until smooth. Gradually add the rest of the sugar, beating well between each addition. Stir in the glycerine – this keep the icing soft for decorating.
If you fancy flat icing your cake, keep the icing fairly soft – a wooden spoon should stand upright in the icing and slowly fall to one side. For piping, you should add more icing sugar to make a stiffer icing which will hold its shape.
Spread this over the cake and decorate as desired. Be as imaginative as you like!
Kevin's Tip
Make the icing a day ahead, cover and leave overnight. The air bubbles will rise to the surface and you're more likely to have a smoother finish.
Kevin Dundon's Christmas Cake

,
SuperValu| November 27, 2014 at 3:33 pm

At least once a week, more if you desire.

Ashley| November 5, 2014 at 12:58 pm

how often do you drizzle the whiskey over the cake?

deirdre sower| January 2, 2013 at 3:54 pm

Made Christmas cake for the first time ever. Followed all instructions including soaking fruit in whiskey the night before. Did marzipan and iced over different days. Oh my god, the fun we all had as a family doing the icing. Need I say never done before but I will be doing again next year. Cake was excellent I might add. Thanks for giving me the confidence. Next year maybe the xmas pudding!!

jeannie frampton| December 28, 2012 at 11:02 am

Made as per instructions except I added extra whole cherries, small chunks of crystalized ginger, a tablespoon of black treacle and halved dates, all soaked in quarter bottle of Baileys for 2 days.

When cooked, I turned it upside down, pricked all over almost down to base and then fed it 3 times over a week with another quarter bottle of Baileys. Indulgent perfection! Thank you Kevin x

Declan R| December 25, 2012 at 5:35 pm

Kevin, cut the cake today, Christmas. First cake I ever baked. All eyes were on me for the verdict on the first slice. Perfect. My 88 year old mum who is a fantastic baker was very impressed. Made my day. Looking forward to next year's already. Happy Christmas and thanks!

Olivia Kearney| December 20, 2012 at 10:38 pm

I made Christmas cake for the very 1st time this year, using Kevins recipe and kit. I have now baked 3 of them in the space of 1 week because my 6 year old son keeps eating them so obviously very impressed! Went today to my local SuperValu to buy some more but all sold out

SuperValu| December 17, 2012 at 3:28 pm

Hi Denise, it is better to cover with greaseproof paper although kitchen paper will do fine, as it will protect the marzipan from dust and strong odours etc while the marzipan dries out.
Hope that helps!

Denise Owens| December 16, 2012 at 5:57 pm

Thank you for a wonderful recipe, when I put the almond icing on the cake and I leave for 5 days do I cover with greaseproof paper of just leave open. Thank you so much again!

Gillian Field| November 27, 2012 at 8:25 pm

I thought this was a brilliant idea. It took the pain out of laboriously measuring out all the ingredients. I made it last Sunday and it turned out brilliantly. I will definitely do it again next year if you bring it out again!! Thanks SuperValu - a very novel idea

SuperValu| November 22, 2012 at 10:56 am

Hi Declan, The 7" tin will work, however the cake will be a bit taller than if using a wider tin. It should not rise more than 2.5" when cooked, and again drizzle with a little whiskey or brandy to keep moist.

SuperValu| November 22, 2012 at 10:55 am

Hi Claudia, The light colour is fine, once the cake is cooked through. We would recommend drizzling with some whiskey or brandy to keep moist.

Declan| November 20, 2012 at 5:55 pm

I have a 7inch round tin which seems higher than normal!!
mixture has about 2,5inch to rise is this ok?
Do I leave it in oven longer

claudia| November 19, 2012 at 8:06 pm

I baked mine today and after 2hrs it didnt look near cooked so i left it for another hour. Skewer came out clean after 3hrs but didnt look that dark. Is it meant to be light coloured?

SuperValu| November 14, 2012 at 9:22 am

Hi Helen, we recommend that the cake is covered in a thin layer of apricot jam and then add the marzipan. We suggest making marzipan (350g ground almonds, 175g Icing sugar, 175g caster sugar, 3 eggs, 1 tsp lemon, ½ teaspoon almond extract) and place it over the cake. There is no need for the cake to be baked again once the marzipan is added.
Let us know how you get on!

SuperValu| November 14, 2012 at 9:19 am

Hi Marie, Kevin would recommend that the cake is made approx 4 weeks in advance, then add a drizzle of whiskey once every week to keep the cake moist. If not using alcohol we would recommend the cake is made 3 weeks in advance. Hope that helps!

Marie| November 12, 2012 at 8:28 pm

Hi, Got the kit and cant wait to make it. How soon before christmas is it recommended to make it? My mother says you should make a christmas cake a few weeks in advance? Thanks for any advice

Laura| November 12, 2012 at 4:01 pm

Made my first Christmas Cake this year thanks to Kevin!
This is genius. Thank you!

helen| November 12, 2012 at 10:21 am

I want to make the cake and cover it with a baked marzipan. Do I use jam or just cover it with marzipan and bake again? For how long?

Caroline| November 7, 2012 at 4:36 pm

Looks great and so simple. Can't wait to try it. Thanks SuperValu

Richard| November 7, 2012 at 2:31 pm

Thanks Kevin. Another great recipe

SuperValu| November 7, 2012 at 12:17 pm

Hi Theresa. There is no need to amend the ingredients for the cake as it will still work out perfectly for the 9" tin, although it won't be as high as per a 8" tin.
Let us know how you get on!

SuperValu| November 7, 2012 at 12:15 pm

Hi Michelle. It's just plain flour that you need to use. There's no need to add a raising agent. Hope that helps!

Michelle| November 7, 2012 at 12:28 am

Hi there, do you need to add a baking powder or raising agent. It says flour above, is that self raising flour? Thanks

theresa hogan| November 4, 2012 at 9:17 pm

I have nine inch tins. How much would I need to increae the ingrediants by?

SuperValu| October 24, 2012 at 5:34 pm

Hi Mary, you can add whiskey to the recipe if you would like. Kevin recommends adding it in one of 3 ways:

1. Soak the fruit in whiskey before adding to the mixture (approx. 50 mls)
2. Add to the cake batter (1 tbsp)
or 3. Drizzle over the cake when baked (approx 150 - 200mls depending on taste).

Let us know how you get on!

Mary Morgan| October 23, 2012 at 1:27 pm

You can't have a christmas cake without adding a drop of whiskey to it?

SuperValu| October 22, 2012 at 10:31 am

Hi Anna. It is possible to omit the butter without affecting the quality of the cake however Kevin does recommend including it. Hope that helps!

Anna| October 21, 2012 at 10:43 pm

hello,is it possible to omit the butter in the recipe for the xmas cake

SuperValu| October 17, 2012 at 3:41 pm

Hi Caroline. Bake the cake for approx 2 hours until the cake is firm to touch, or, when pierced with a skewer, it comes out clean. Hope that helps and let us know how you get on!

caroline| October 17, 2012 at 12:09 pm

How long do you bake the cake in the oven?