Hearty Vegetable Soup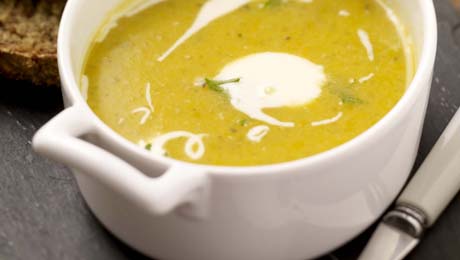 It freezes exceptionally well so you can just freeze it in small containers and regenerate as required.
Ingredients
50 g SuperValu Butter
1 medium Onion
2 stick Celery
1 medium Leek
3 cloves Garlic
1 Sweet Potato
300 g Butternut Squash
2 medium Carrots

Seasoning

1200 ml Chicken Stock or vegetable stock

To garnish

1 tbsp Crème Fraiche
1 tbsp Fresh Parsley chopped
Method
Begin by chopping all of the vegetables and garlic.
Melt the butter in a large saucepan and then add in the vegetables.
Sauté gently for 4-5 minutes until some of the smaller vegetables are beginning to soften.
Next add in approximately two thirds of the chicken or vegetable stock and bring the mixture to a slow boil and then reduce the heat and simmer for an additional 15-20 minutes or until all of the vegetables have softened down completely.
Using a hand blitzer, blitz the soup until it is nice and smooth. Return to the heat and bring back to a very gentle boil.
If you would like a thinner soup, now would be the best time to add some additional stock to thin it down. Correct the seasoning at this stage also.
Transfer it to your serving bowls or cups and garnish the soup with a little crème fraiche and chopped parsley.
Serve as required or alternatively allow the soup to cool down and then transfer it into suitable containers and freeze until required.
Hearty Vegetable Soup

,
linda brown| February 10, 2015 at 5:41 am

Hi must try these soups look so quick and handy why buy I brought soup gadget asked partner to buy one boy one last yr have I used it , no. But. I must do. more and more now I read some really good ones going to give these a try Linda Plymouth

NELL| February 8, 2015 at 3:33 pm

Another great soup, so simple to make and it's a soup that the whole family will eat. If you want, you could skip the sautéing part and just dump everything into the pot at the same time and put it onto boil. This is what I did and it tasted great.

sh| December 27, 2013 at 12:20 am

Very easy to make and really tasty. Had this as part of Christmas dinner and everybody loved it even our 1 year old baby.

Sarah| February 24, 2013 at 9:01 am

I love this recipe, I buy the soup all the time and now I know how to make it at home! Yummy!!

Fi| February 21, 2013 at 8:03 pm

I made this soup today. Really great taste and filling. Best Veg soup recipe so far.

Pamela| February 20, 2013 at 12:29 pm

Tasty!

Celine| February 4, 2013 at 9:04 pm

My toddler LOVES this soup.

Vivian Mackessy| May 9, 2012 at 1:37 pm

Beautiful soup and very easy to make.

julie o'neill| January 20, 2012 at 12:21 pm

easy to make and really tasty . Great receipe.