Chocolate & Candied Orange Tart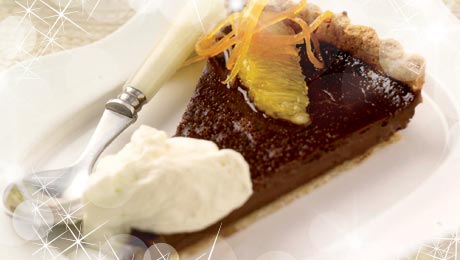 This is a gorgeous, indulgent chocolate dessert, perfect for any occasion. Why not try adding your favourite liqueur or nuts to the ganache for extra flavour.
Ingredients
Sweet Pastry

137.5 g SuperValu Butter diced
162.5 g SuperValu Sugar
1.25 SuperValu Egg
156.25 g SuperValu Plain Flour

Ganache

187.5 g Dark Chocolate melted
175 g Milk Chocolate melted
300 ml SuperValu Cream
150 ml SuperValu Milk
1.25 SuperValu Egg beaten

Candied Oranges

2.5 SuperValu Fresh Oranges
75 g SuperValu Sugar
Method
Preheat the oven to 180°C/350°F/Gas Mark 4.
Place the butter and sugar in a large glass bowl, add the flour and combine together until the mixture resembles breadcrumbs. Stir in the egg using a spoon and bring the ingredients together to form the pastry.
Wrap the pastry in clingfilm and place in the fridge for 1-2 hours.
Roll the pastry out on a lightly floured surface and place over a greased 9" fluted pie dish. Blind bake for 20 minutes and set aside to prepare the ganache and candied orange.
Cut the orange zest into thin strips. Using a sharp knife remove the pith from the peel. Blanch the peel for 2 minutes in a pan of boiling water, drain off the water and repeat.
With just the peel in the pan, add the sugar and 30ml of water cook for 30 minutes on a very low heat. Allow to cool.
To prepare the ganache, pour the cream and milk into a pan and bring to the boil. Reduce the heat and add the chocolate, whisk to obtain a smooth cream.
Add the beaten egg when the mixture has slightly cooled.
To assemble, place the orange zest on the pastry base retaining a spoonful for decoration. Pour over the chocolate ganache and bake in the oven for 10 minutes. Allow to cool, then decorate with the remaining zest.
Serve with lashings of whipped cream or your favourite ice cream.
Chocolate & Candied Orange Tart

,