Chicken and Chorizo Paella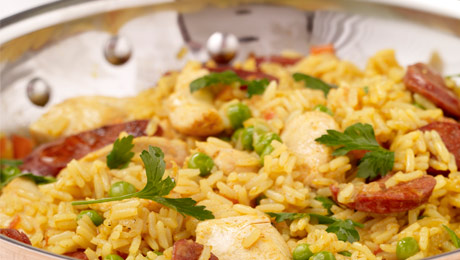 A perfect one pot dish to share, full of flavour and relatively simple to prepare. You could also add some prawns and mussels for more a more traditional dish.
Ingredients
5 SuperValu Fresh Chicken Breasts cut into chunks
150 g SuperValu Chorizo sausage cut into chunks
375 g SuperValu Long Grain Rice
150 g SuperValu Frozen Peas
2.5 SuperValu Onion finely chopped
2.5 medium SuperValu Tomato skinned, seeded and chopped
2.5 tsp Paprika
2.5 tsp Tumeric
2.5 tsp Ground Cumin

From the Store Cupboard

5 tbsp SuperValu Olive Oil
5 cloves SuperValu Garlic finely chopped
1250 ml Chicken Stock hot
SuperValu Salt and Black Pepper to season
Method
Heat 1 tbsp olive oil in a large pan, add the chicken and cook over a medium heat for 4 – 5 minutes until browned all over.
Add the chorizo, paprika, cumin, salt and pepper and cook for a further 2 – 3 minutes.
Mix in the garlic, onions, tomato stirring constantly until cooked. Remove and set aside.
In the same pan, heat 1 tbsp olive oil and sauté until the rice until translucent.
Pour the chicken broth over the rice and cook for around 25 minutes until the liquid has been absorbed.
Add the peas and cook for a further 5 minutes, return the chicken and chorizo mixture to the pan, serve immediately.
Chicken and Chorizo Paella

,
Fiona| November 4, 2012 at 8:51 am

This was really tasty and went down well with everyone. My mum made it the day before me but had no paprika and used hot chili powder instead, she said it gave it a nice little kick, I had only sweet paprika and found it could have done with some chili, just need to experiment by tasting in future for flavourings but such a great tasty one pot dish. Will be making it again very soon especially with this cold miserable weather we are having.