Baked Fillet of Salmon with Mediterranean Veg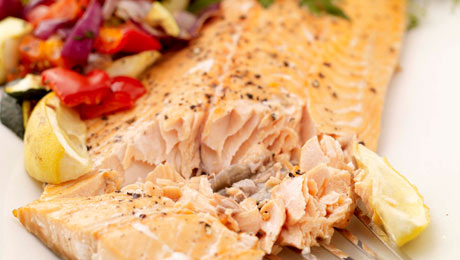 This is a great Sunday lunch option if you are having a crowd around.
Ingredients
1 large side of SuperValu Salmon
1 glass White Wine
3 sprigs Fresh SuperValu Dill/Flat Leaf Parsley
1 SuperValu Lemon cut into wedges
Seasoning

Lemon Roasted Potatoes

18 SuperValu Baby Potatoes
1 SuperValu Lemon cut into wedges
1 tbsp SuperValu Olive Oil
Seasoning
Mediterranean Vegetables

1 SuperValu Red Pepper diced roughly
1 SuperValu Green Pepper diced roughly
2 SuperValu Red Onions peeled and sliced into chunks
1 SuperValu Courgette diced roughly
14 SuperValu Cherry Tomatoes (approx)
4 cloves SuperValu Garlic crushed
2 sprigs SuperValu Thyme
1 tbsp SuperValu Olive Oil
Method
Preheat the oven to 180°C/350°F/Gas Mark 4.
Place the salmon onto a large roasting tray, season lightly with some seasoning.
Scatter the herbs on top along with the lemon wedges and then pour the wine on top.
Place in the preheated oven for 30-35 minutes until gently cooked.
Portion with a metal spatula and serve immediately with the Mediterranean vegetables.
Lemon Roasted Potatoes
Place the potatoes, lemon wedges and oil into a large mixing bowl.
Season well with some salt and pepper and mix well.
Transfer to a flat baking tray and roast for 45-50 minutes.
Mediterranean Vegetables
Arrange all of the vegetables in a large roasting tray with the thyme sprigs and olive oil and roast for 35-40 minutes.
Baked Fillet of Salmon with Mediterranean Veg

,