Real Rewards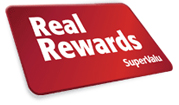 As a precautionary measure, Getaway Breaks and Bonus Rewards is temporarily offline.
Real Rewards is unaffected by the recent difficulties on the Getaway Breaks site. For the latest information on Getaway Breaks click here. In the meantime, you can update your Real Rewards account as normal below.
Not a Real Rewards customer? Simply ask for an application in store, sign up below and start redeeming your Bonus Rewards immediately.