All you Need to Know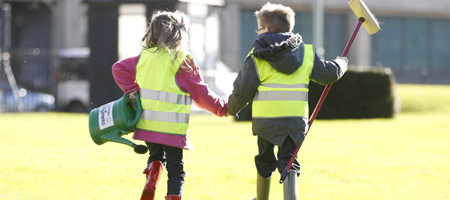 What is the SuperValu TidyTowns Competition?
The SuperValu TidyTowns Competition is a national event that has been taking place annually for over fifty years. SuperValu TidyTowns encourages communities to work together to make their place a better place. In 2012 there was a total of 855 entries.
Who runs the Competition?
The Competition is run by the TidyTowns Unit at The Department of The Environment, Community & Local Government based in Tubbercurry, Co. Sligo.
We have just formed a Committee – can we enter?
Any Community no matter how big or small can enter the SuperValu TidyTowns Competition. You don't have to have completed major work to take part. As long as there is a representative group who can complete the entry form then you can enter.
What are the benefits of entering SuperValu TidyTowns?
You will find that there are really great advantages when your community starts working together to a common purpose. SuperValu TidyTowns will bring your community closer together and it is lots of fun as well!
Will it cost us a lot of money to submit an entry?
The good news is that there is no entry fee for the SuperValu TidyTowns Competition.
How do we enter?
Download the Entry Form here.
It is important also to telephone the TidyTowns Unit to give them the name and address of your SuperValu TidyTowns Secretary or other Committee member for contact purposes. The contact details for the TidyTowns Unit are as follows - email tidytowns@environ.ie or phone 071 9186744
Who pays for the SuperValu TidyTowns Competition?
The SuperValu TidyTowns Competition is funded each year by The Department of The Environment, Community & Local Government in association with SuperValu the title Sponsor. SuperValu have been the principal sponsor of TidyTowns since 1992.
What is the Prize Fund?
There are over 200 prizes and the Prize Fund this year will total over €200,000.
What kinds of prizes are available?
All main prizes are based on the scores achieved by entrants in the competition as follows:
Endeavour Awards
For the biggest improvement by an entrant in each county from the previous year
County Awards
For the top three entrants in each county.
Regional Awards
For the top-scoring entrant in each region.
Gold, Silver and Bronze Medals for entrants with scores that fall within a set range from that year's winning score.
Category Awards
For the highest scoring entrants in the Village, Small Town, Large Town and Large Urban Centre categories.
For the highest scoring entrant in the whole competition.
There are also separate awards sections for Island entrants and Gaeltacht entrants.
Special Awards
Check out the 10 Special Awards on offer this year here.
What is the closing date for entries for this year?
The closing date is May 22nd 2014.
Entries should be sent to the Department of Environment, Community and Local Government, TidyTowns Unit, Teeling Street, Tubbercurry, Co Sligo.
How Does the SuperValu TidyTowns Competition Work?
A team of TidyTowns adjudicators will work throughout Ireland visiting each SuperValu TidyTowns entrant. One adjudicator visits each entry and carries out an assessment of your community.
You will not be advised of the day of the visit and the adjudicator will not need to meet your SuperValu TidyTowns Committee. This process will last until about the middle of July. After that a second round of adjudication will take place with a different adjudicator for the top entrants in each county.
How is each entrant judged?
There are ten adjudication categories as follows –
Overall Development Approach
The Built Environment
Landscaping
Wildlife & Natural Amenities
Litter Control
Sustainable Waste & Resource Management – reducing the amount of waste generated in your area
Tidiness
Residential Areas
Roads, Streets & Back Areas
General Impression

Your adjudicator will mark your town / village /community on each of these adjudication categories. Between the ten adjudication categories a maximum of 400 marks is available.
Do we get a SuperValu TidyTowns Report?
Every competition entrant will get a report in September that has been written by the adjudicator that visited your community. This will give your marks for each adjudication category together with recommendations for further action by your SuperValu TidyTowns Committee.
The reports are sent to each entrant immediately after the announcement of the annual Competition results in Dublin in early September.
Where can we get further information about the SuperValu TidyTowns Competition?
The TidyTowns website provides more detailed information about the competition. The adjudicators reports for every entrant in every county back as far as 1996 are also available there.