Wine of the Month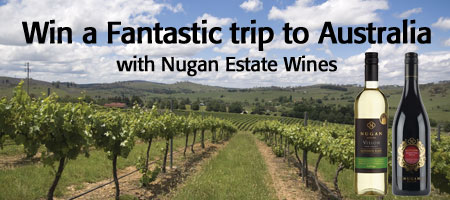 Our Wine Expert Kevin O'Callaghan shares his salute to specially sourced wines.
Nugan Estate Wines
From Amarone inspired Dry Grape Shiraz, to the little known Bordeaux grape of Petit Verdot we find a world of innovation and tasty treats at Australia's Nugan Estate Winery. When talking to Daren Owers, Nugan's Chief Wine Maker you find, as expected, a deep passion for wine, but also a clear desire from him to push innovation in landing new exciting wine styles. When we first started working with Nugan Estate Wines I have always found their approach to be very refreshing. You know instantly you are dealing with people who not only love wine but who also enjoy experiencing people loving their wine. You could put any of the Nugan family into a room of wine novices and they will blend right in, just as well as in a room full of wine aficionados. This is a testament to their respect of the journey we all take in drinking wine. If you would like the chance to experience first-hand what I am talking about then be sure to enter the Nugan competition for a fantastic trip for two to visit Nugan Estate Wines as well as other parts of Australia, a trip worth €10,000.
You can enter the competition on Facebook!
Wines of the Month
This Month we have a wonderful offer across Nugan Estate Wines with some of the classist wines available at prices which make fine wine drinking more accessible. The Nugan Estate Vision range are very well made wines with brilliant fruit expression and at only €8 on offer and represent brilliant quality return for the price. Nugan have a Gold label range which concentrates on two separate varieties of Merlot and Petit Verdot which separately shows real depth and concentrated black fruits well worth the special offer price of only €10. The wines I want to concentrate on are from the Nugan Single Vineyards and the Nugan Alfredo wines which are some of the finest wines available today. The Single Vineyards have an incredible multi award winning Shiraz and Chardonnay with the Shiraz having the most velvety gorgeous weight of sweet spice and lush black fruits with the Chardonnay displaying incredible concentration of tropical fruits blended with vanilla given a crisp lingering finish for a true connoisseurs wine. Here now are my two top picks from a brilliant range.

Nugan's Alfredo Dried Grape Shiraz
Now €15 Save €4.99
DGS stands for Dry Grape Shiraz, which is made from partially dried grapes. This process made famous by the Italian Amarone wines see the grape dried to reduce the amount of water in the grape to concentre the fruit levels which means what is pressed from the grape is even less diluted following the DGS process concentrating the flavours. This is a labour intensive technique requiring great care over the grapes to get the correct level of concentration. The result delivers a wine with a real lush mouth feel, deep black fruits with a sweet jamminess all blended with delightful notes of vanilla and spice giving the wine a wonderful lingering after taste. This wine was launched this year to our stores for the first time and is already getting a lot of awards. A great wine to match with grilled red meats or antipasti cured meats and cheese. Wine Critic Stephen Tanzer scores it 92 points which already ranks it alongside some real classics.
Nugan's Single Vineyard – Coonawarra Cabernet Sauvignon
Now €12 Save €4.99
We all know Australia is has a hot climate allowing there grapes to ripen fully in the gorgeous weather and in the past maybe over ripen in locations that were too hot. I say this as the region shown here, namely Coonawarra, is located in what is regarded as a cooler climate region for Australia. There are yet again cooler areas like Tasmania which are primed for varieties like Pinot Noir but Coonawarra delivers the perfect balance between soil and climate to produce wonderfully styled wines, especially those of the Cabernet grape. Nugan wines have produced a Cabernet Sauvignon here that is simply sublime. The wine has lifted aromas of cassis and a touch of mint coming from the cooler region along with vanilla. On the palate the wine has a brilliant fruit intensity of blackcurrants blended with vanilla and cocoa with a firm texture. The after taste of this wine lingers for the longest time which is a great sign of a well-made and beautifully balanced wine. This is a big wine matching well with lamb, red meats and cheese and for the adventurous works well with dark chocolate for that real self-indulgent treats. This wine has won Gold at the much coveted Mundis Vini International Wine Awards showing the glass of this wine which easily wipes the floor with many wines twice its price.
Enjoy!
Cheers.