Wine of the Month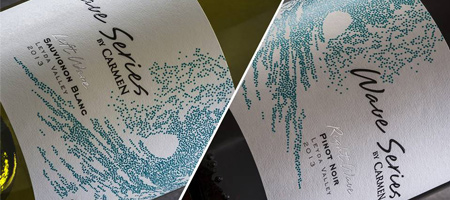 Our Wine Expert Kevin O'Callaghan shares his thoughts on the Chilean Wave Series of Wines and tells us about the great Fish & Wine Sale at SuperValu.
This month in store you will see a brilliant Wine and Fish sale with a fantastic array of fish to choose from and the right wines to match. We have the countries favourite Santa Rita 120 at only €8. The classy Paco & Lola at only €10, with the Albarino grape becoming very trendy now and a whole feast of others wines, from classic French Pouilly Fume to a beautifully weighted Riesling from New Zealand's Lone Kauri offering brilliant value and if that's not enough we also have 'Buy any 6 and Save €10' on all wines from the  3rd of July to the 9th of July an offer not to be missed.
Fish is one of the more delicate dishes to prepare and to serve. It can be served plain but the majority of times you will have contributors which will influence the taste and more importantly, for me, influence the wine selection. A light and delicate piece of Sea Bass with only a squeeze of lemon juice over it will obviously give lifted citrus flavours to be matched with a light fruit driven wine ideally also with citrus flavours like apples and limes etc, a Pinot Grigio, young Riesling or Sauvignon Blanc delivers just this. These wines work well also with fish in batter as fried foods should avoid wines with oak influence or reds. A fish with fuller flavours, like Salmon, can take wines with more body, like a Chardonnay,  Viognier etc and if the Salmon is smoked then an oaked influenced wine will work well or even a light red, something with a delicate texture though, like a Pinot Noir.
Wine of the Month
The wines I have picked this month, when hard pressed from an impressive selection, are two new wines to the range which deliver an excellent quality return for the price and both coming from the coastal region of Leyda in Chile. Leyda is a region you would have seen me write about before, calling it the new hot spot in Chile, which is a contradiction as it's actually the cooler region of the Chilean wine scene. The name Wave Series I suspect is set to depict the wines proximity to the cost and impress upon us the influence of the cool breezes from the Pacific as they naturally regulate the temperatures of the land allowing the wines to flourish in the wonderful Chilean sun while still being cooled helping to concentrate the fruit flavours. Knowing this to be factual correct means this is actually a very clever name. Look out for both these wines this month and don't shy away from the Pinot Noir while having fish also, why? See below!

Left Wave Sauvignon Blanc 2013
Now €10.00  Save €4.99
You have read this from me before and it's worth mentioning again that when I look at a premium Sauvignon Blanc I look for the nose to show more pungent green flavours. Apples etc. as always but I look for more complexity also. Gooseberries, nettle even asparagus given me an indication of concentrated fruit and that's what you get here. A very fresh and vibrant wine with incredible mouth-watering sensation as the wine makes you take notice. Gooseberries and limes are evident and the wine has a wonderful lingering of fruit which is just what you expect from a quality wine. I have paid well over €10 for a bottle of wine only to be left down and that is certainly not what is happening here. This is a great buy and fantastic with fish, Green Salads, Scallops and fresh Goats' Cheese.
Right Wave Pinot Noir 2013
Now €10.00  Save €4.99
I reckon I am one of the very few people in the wine industry who challenge the hype of Pinot Noir. This mainly because, for me, if you want a bottle of Pinot that everyone raves about you're going to pay in excess of €40, probably coming from the great Burgundy region whose wines are worth it, but you'll have to pay. In light of this I always ask myself why, like with some many other grape varieties, can other countries not challenge this in terms of price, where we have seen so much success in Cabernets and Sauvignon Blanc etc. The reality is Pinot is a fussy little grape needing all the elements to be just right so it is only in the last couple of years that challengers have sprouted and for me making wines with more depth and character at prices that everyone can enjoy. So as it is a delicate grape it needs cooler conditions and Leyda is just perfect with the ocean breezes assisting in this. Being a sceptic I was delighted to find this wine delivers. On the nose you get lifted aromas of red berries, raspberries and cherries which thankfully flow through to the palate and a wonderful oozing of flavours warming the palate with a velvety texture finishing very gently leaving only the flavours you experienced. Perfect with Lamb and chicken and on a hot summers day you can chill slightly for a brilliant match with Fish, going for Salmon, Fish with pasta or on a tomato base.
Enjoy!