Wine of the Month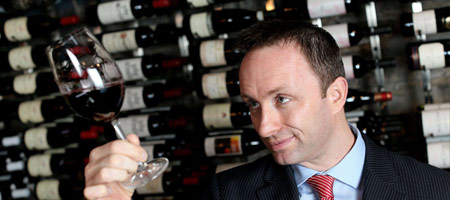 Our Wine Expert Kevin O'Callaghan tells us about those Fabulous Fine French Wines!
It's that time of the year again when the harvest gets under way across Europe and the vineyards are busy at work, selecting grapes and working diligently ensuring all the grapes are at optimal ripeness for the selected style of wine. Has it been warm enough for full ripening? Do they need a little longer on the vine? And what if it rains diluting the grapes flavour ruining all the last ditch efforts? These are some of the difficulties which face the wineries at this time of the year as they work on bringing you their very best wines.
Luckily for you and I we don't have that problem and our hardest task is selecting a wine off the shelf – simple right? Or is it? During our French wine sale we have many wines at incredible value for you to explore and enjoy. These wines have been selected to represent many of the wonderful regions across France delivering for you the styles you have come to love and expect from the SuperValu French Wine Sale. We have 20 select wines which form part of our mix and match offer of buy any 3 for only €25 and this represents an incredible offering on quality wines. Check out the SuperValu leaflet for my Best Buys and Must Try's from this selection, truly some real winners in this.
The French wine industry has changed dramatically over the last couple of years and in particular since 2012 with new labelling laws. This benefits you and I with relaxed laws permitting the use of varietals on labels to guide customers on the style of wine in the bottle. But we still have labels which remain difficult like those of Bordeaux and Burgundy where the region denotes the actual style but unless you are in the know, they remains a mystery. Take Sancerre, this comes from the Loire Valley in the northern reaches of France (did you know that?). White wine grapes from the Loire tend to be those which thrive in cooler climates i.e. Sauvignon Blanc, or Chenin Blanc. And for your wine to be called Sancerre, the wine must be made from 100% Sauvignon Blanc to be awarded the mark of Appellation Sancerre Protégée (AOP) (a protected designation of origin in English) which was formerly called Appellation d'Origine Contrôlée (AOC) which was in place pre 2012. So now, when you see a Sancerre, you know it's made from Sauvignon Blanc from the Loire Valley of France, simple right!
Well if you find that entirely daunting then let me recommend two wines which I have marked during this promotion as Must Try wines for you to enjoy and most importantly over delivers on quality for the price.

Coteaux De Giennois Sauvignon Blanc
Now €10 Save €4.99
Our Coteaux du Giennois White vineyard is located in the district of Bonny Sur Loire, and planted on siliceous clay soil terraces overlooking the Loire River. "Impress your friends with your knowledge of French geography by telling them this is a little appellation that neighbours the more famous Sancerre and makes wine from the same grape, Sauvignon Blanc, but at a lower price". – Movies & Booze Sean Moncrieff Show Newstalk. Wonderful crisp mouth feel of citrus fruits of apple and melon with a mineral touch that gives the wine its elegance and ability to match food so well. Great with fresh soft cheese, fish and shell fish.
Chateau Haut Bertinerie
Now €12 Save €3.99
From the Cote de Blaye in northern Bordeaux comes one of our best producers. For nearly 200 years, Château Haut Bertinerie has been handed down through the generations of the Bantegnies family. In 1985, in conjunction with the National Institute of the Agronomic Research, Daniel Bantegnies transformed the traditional vineyard into an "En Lyre" vineyard. Château Haut Bertinerie has received more than 58 medals in 40 years showing it to be a true quality performer. This Merlot based wine is blended with Cabernet Sauvignon to deliver intense colour, nose of red berries with hints of coffee and spice (mocha, vanilla, cinnamon and liquorice) Rich, tannic structure and a great aromatic expression on the palate. Fine and elegant with brilliant aging potential. In my opinion this wine at the price wipes the floor with many Bordeaux's at twice the price. Brilliant with slow roasted meats semi to hard cheese or grilled steaks married with earthy flavours like mushroom.
Santé!