Wine of the Month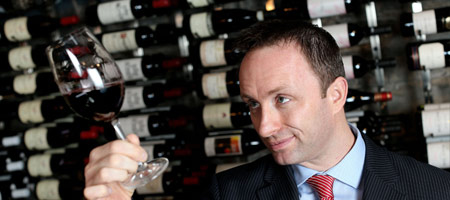 SuperValu's Wine Buyer Kevin O'Callaghan's top wine picks this month.
Winter Warmers
It's that time of the year when the trees are bare the nights are longer and cold sets in, all making it difficult to think of cool crisp Pinot Grigio when you're craving something more robust. This seems fitting when you consider the average meal planner for the week also changes to combat the cold nights. Stews and Casseroles become more regular, Roast Chicken and Vegetables, Chilli Con Carne and other hearty meals all become the norm. This is why during the winter months red wines increase its sales as we naturally, if not subconsciously, look to match red wines with the previous meal options. This month I want to recommend some of the more hearty wines on our shelves which deliver all the robust character needed to match the life style of the winter months.
Finca Labarca Reserva Rioja

Now €12 Save €3.99
One of the most velvety wines you'll experience. Big on the nose which just keeps changing and delivers everything you would expect – deep ripe blackcurrant flavours with a vanilla and spice richness delivered from the maturation process in oak given a wonderfully smooth finish which makes it a brilliant match for roast duck and rich beef dishes.
Rioja is made from one of the most widely planted grape varieties in the world, called Tempranillo (tem-par-Nee-you), and yet little known by most – but of course not you. Tempranillo takes well to oak and, as it ages, develops additional flavours like leather, tobacco, vanilla and spice. In its homeland of Spain Tempranillo has been going through a great revival in the last decade and many excellent wines of real character are being made in several regions. Rioja is without doubt the most famous of these regions where the grape has been nurtured and developed to produce some of the world's most sought after wines. When buying Rioja one of the most important indicators on the label is its maturation mark, that of Joven, Crianza, Reserva and Gran Reserva. These indicate how long the wine has been matured in oak and bottled before it can be released and will usually (but not always) be an indicator of price.
| | | |
| --- | --- | --- |
| Maturation | Oak ageing before bottle (minimum) | Bottle ageing before release (minimum) |
| Joven (the youngest) | Little or none | No bottle aging required |
| Crianza | 12 months | 12 months |
| Reserva | 12 months | 24 months |
| Gran Reserva | 24 months | 36 months |

Macon Lugny Les Coteaux Des Anges
Now €12 Save €2.99
Let's talk Chardonnay the grape most love to hate yet drink quite a bit unbeknown to most. You only have to look at the most famous white wine region of Burgundy, that of Chablis, making wines from Chardonnay in a style that was world renowned and made famous at the time when the style was important than the actual grape. Today that has changed somewhat and people want to know the grape variety so they can make more informed choices on what they drink. When it comes to Chardonnay what you need to know is if it has been aged in oak or not, that's a good starting point as most will look to avoid it, but remember gentle oak aging will add character that you'll come to appreciate over time. That's what you get from the vast majority of White Burgundy wines. As with Chablis my recommendation here is a wine made from Chardonnay which is also matured in stainless steel vats but from a region called Macon Lugny. As prices from Burgundy have increased of late due to poor harvests this Macon Lugny, another regions of Burgundy, represents brilliant value for money for another classic region. Crisp and dry with tropical fruits of melon and white apple (like peeled apples) with a mineral character of flint and a steely finish. Brilliant for shell fish, chowder and chicken based casseroles.
Santé!