Range Suppliers
Meet Margaret, Ken and Thomas. They supply us with the best quality eggs, fish and olive oil at the best possible price. So you can buy the best for around a third less.
SuperValu Free Range Eggs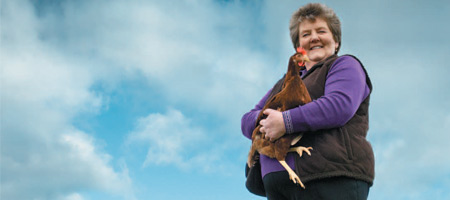 Meet Margaret Farrelly and her son Killian. When we asked them to supply eggs for our new SuperValu Range they knew it was a tall order; producing eggs of the highest quality but at a more affordable price.
Margaret's chickens roam the farm, getting as much daylight as possible because the amount of sunlight enhances the quality of the egg. And at night music is piped into the coop, keeping the chickens contented. What's more, the Farrellys have also helped create employment with 15 full time staff - in addition to working with 19 local farmers.
SuperValu Fresh Fish.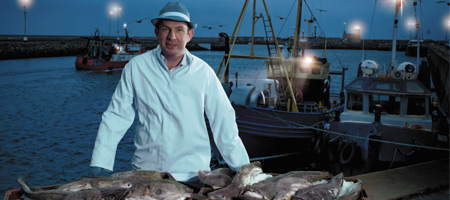 Meet Ken Ecock. His family business supplies our new SuperValu Range with most of our fresh fish as well as smoked salmon, prawns and fish fingers that taste just as good as the best selling brands... but at a third less.
Before the sun is even up, Ken is out talking to fishermen, finding the best fish on offer every morning. Fresh fish is hand filleted as soon as the catch is brought in at Howth and then delivered to our fish counter. Our prepared fresh fish is created using unique recipes especially developed for the new SuperValu Range.
Ken's family have also helped create over 100 full time jobs - as well as supporting the work of Irish fishermen.
SuperValu Extra Virgin Olive Oil.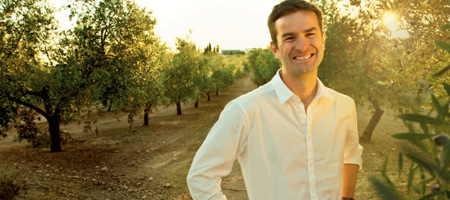 Meet Thomas Hengy. He supplies our new SuperValu Range with olive oil that tastes just as good as the best selling brand... but at a third less.
Nestled in the Andalusian hills, Thomas' business has been dedicated to producing the best possible olive oil for almost 100 years. Quality is key, so the olives are picked at just the right time, and then pressed immediately to capture their full aroma and taste. The Master Taster then tests the oil to make sure
the quality is unsurpassable, before bottling there and then.
It's no great surprise then that their Extra Virgin Olive Oil recently won a gold star Great Taste award.

Mallons
There's nothing like the smell of a cooked sausage to get you going in the morning and Mallons sausages are the best. Based in Monaghan, the Mallon family have been making the finest sausages since the 1940s. As a specialist, Mallons won the Irish Craft Butchers awards in 2010 and we are proud to have them supply us with sausages for our new SuperValu Range.

Oliver Carty
Oliver Carty is a family run business and has been based in Athlone for the last 51 years. They supply us with the finest pork, bacon and rashers. They recently won the prestigious SuperValu Food Producer of the Year award.
Barber Daly
You can enjoy a great cuppa for less thanks to Barber Daly tea merchants. Set up in 1975 in Cork city by Brendan Daly and Bob Barber, they supply us with a range of teas. Our SuperValu Reserve Fair Trade tea just won the Supreme Champion at the Blas na hÉireann National Irish Food and Drink Awards.

Clonarn Clover
Whether fried, boiled, or scrambled you can rest assured that the free range eggs from SuperValu are ethically produced. Located in Cavan, the Clonarn Clover farm eggs are produced by free range hens which ultimately means more flavoursome eggs.

Sunshine Juice smoothies
If you are looking for a healthy start in the morning, our new SuperValu range of smoothies are just the thing. Supplied by Sunshine Juice, they are made fresh every day with the freshest natural ingredients. They come in lots of flavours for you to enjoy and cost a third less than well known brands.
Read more of our Suppliers' Stories here