Fresh Magazine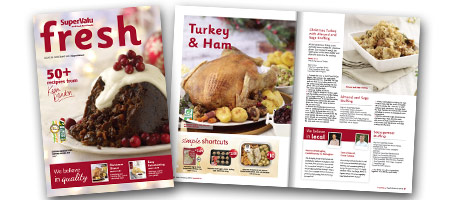 Christmas is a great time to unwind and spend quality time with family and friends. It is the time when we welcome those that are dear to us home from abroad and we look forward to catching up and enjoying some precious time together.
Christmas is a time for fond memories, a time for laughter and a time for chat; however, above all it is a time for to celebrate traditions. Every family enjoys their own customs, albeit a candle lit in the window, mulled wine and mince pies with neighbours on Christmas Eve or Christmas carols at midnight mass.

We all enjoy the preparations – Christmas cakes baked, plum puddings stored, parties planned and old family recipes dusted off to ensure the perfect Christmas dinner. With over 30 years' experience, serving the people of Ireland, we know what makes an Irish Christmas special and it is our job to make sure that all the Christmas essentials are ready and waiting on the shelves for our shoppers.
At SuperValu, we believe food is at the heart of any occasion, especially Christmas. Families and friends celebrate around the table and sharing fine food with those closest to you can be one of the great joys of Christmas. That is why our retailers and in-store experts such as our butchers, fishmongers and bakers are there to assist and help you create that special meal or plan that perfect party.
To help you budget for your Christmas shop, don't forget that our SuperValu range of over 2,000 products, will save you on average 33% less than the branded equivalent. They have all been tested to ensure that you are not compromising on quality or taste.
In addition, we have recently launched SuperValu Signature Tastes – a unique range of over 200 products created by SuperValu and our most trusted suppliers, giving you an amazing range of top quality products, at everyday prices.
Our commitment to sourcing only 100% Irish meat and poultry, which has been born, bred and reared in Ireland is at the core of SuperValu's belief in quality.
Let me finish by thanking you for your support throughout 2013 and for helping us to sustain 30,000 jobs across SuperValu and the Irish food and farming sectors.
Wishing you a very Happy Christmas.


Martin Kelleher
Managing Director
SuperValu