Fresh Magazine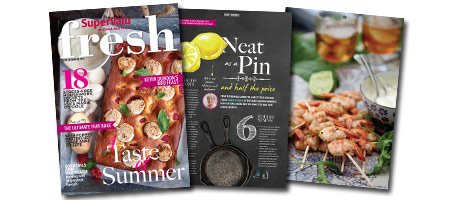 Welcome to the new look SuperValu FRESH magazine!
It's bursting with tons of summery recipes for every possible occasion thanks to the help of celebrity chef Kevin Dundon and his friends. From Kevin's big barbecue ideas on page 10 to quirky summer cocktails on page 46 you'll be hard pressed to decide which recipe to try.

Kevin Dundon also spent some time with the GAA All-Ireland Football Champions and though they might have the edge on Kevin when it comes to sporting skills he was impressed with their favourite recipes. Turn to page 18 for the low-down on what our GAA Football Champions are cooking as well as a chance to enter the GAA Winning Tastes of Summer Competition. You could win a VIP trip to this year's All-Ireland Football Final.
Now, that's tasty!
Ross Golden-Bannon
Editor, fresh