Tapas
Our Tapas range is the easy way to put together a delicious selection of bite-sized snacks – it is the perfect food to share. Tapas are also extremely versatile – they make the perfect sharing platter but can also make quick and delicious meals. Check out some our favourite Tapas dishes below or Kevin's Mediterranean Baked Tapas.
Semi Sundried Cherry Tomatoes
Plump, moist, full of flavour and very versatile. These are perfect on their own or with a simple pasta dish.
Green Pesto
Pesto is so versatile and can dress up a recipe in seconds. It's great mixed through pasta.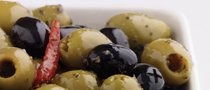 Olive Selection
Olives can be used in Salads, Pizzas and Sandwiches, with cheeses and crusty breads.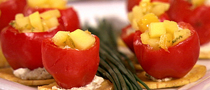 Sweet Peppers stuffed with Cheese
Delicious little sweet peppers stuffed with soft cheese – a true continental classic.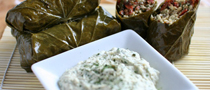 Stuffed Vine Leaves
Stuffed with rice and flavoured with lemon oil this is a delicious snack and a tasty addition to any tapas platter.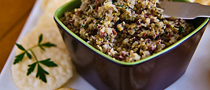 Tapenade Range
Tapenade is made from the simplest of ingredients – usually minced tomatoes or Black or Green olives. Perfect spread on crusty bread as a starter.