Free Gift Bag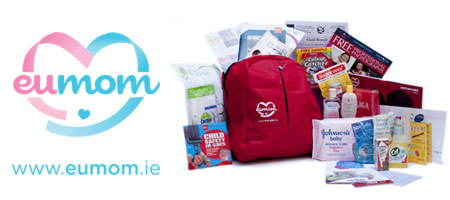 Your Eumom Gift Bag is a free gift provided by eumom.ie, Ireland's largest pregnancy and parenting website. The Eumom Gift Bag is packed full of free baby product samples, discounts, information and a much-loved Eumom Backpack.
Thanks to SuperValu's partnership with eumom.ie, pregnant women across Ireland can now conveniently collect their free Eumom Gift Bag from their local SuperValu store.
Eumom.ie Managing Director Rose Kervick says: "Mothers love to try out new products before choosing to buy. The programme is extremely popular and the bags are a very welcome gift.
The gift bag provides mothers-to-be with lots of useful information and the opportunity to trial lots of different products, so they can make an informed choice before committing to purchase.
This partnership is only one aspect of the ongoing support SuperValu provides to parents and will combine with existing initiatives such as everyday low prices on trusted baby care brands as well as our team of helpful experts, who are on hand to provide additional support and guidance to our shoppers".
How to Collect Your Eumom Gift Bag?
In order to collect your free gift bag, just bring the collection card you received in your Pregnancy Information Pack to your local SuperValu Store.
If you didn't get the first Pregnancy Pack, you can Download This Collection Card, print it out and bring in to your local SuperValu Store today.